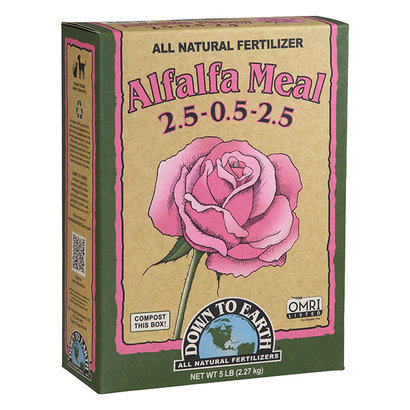 Down To Earth Alfalfa Meal
17205
Availability:

In stock (11)
Product description
Brand:

Down to Earth

EAN:

0714360078059

Article number:

17205

Availability:

In stock (11)
Promotes accelerated growth and plant development
Down To Earth™ Alfalfa Meal 2.5-0.5-2.5 is an exceptional source of plant-derived nutrients. It is highly recommended for roses as well as all other vegetables, herbs, flowers and shrubs. DTE™ Alfalfa Meal 2.5-0.5-2.5 is derived from sun-cured, non-genetically modified alfalfa that is freshly milled to preserve the highest plant nutrient value.
Guaranteed Analysis
TOTAL NITROGEN (N) 2.5%
2.5% Water Insoluble Nitrogen
AVAILABLE PHOSPHATE (P2O5) 0.5%
SOLUBLE POTASH (K2O) 2.5%
Derived from: Alfalfa Meal
Listed by the Organic Materials Review Institute for use in organic production.