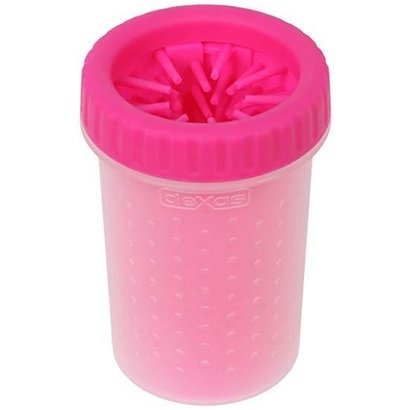 Mudbuster Portable Dog Paw Cleaner
17797
Availability:

Out of stock
Product description
EAN:

084297308032

Article number:

17797

Availability:

Out of stock
Never fear your adventurous pup's dirty paws again with the Popware for Pets Dexas MudBuster Portable Dog Paw Cleaner. Now your best friend can have all the muddy, sandy fun he wants without tracking it into your home or vehicle. The Mudbuster features soft, thick silicone bristles inside an easy-to-grip BPA-free tumbler that works like a miniature agitation washer for his paws. Just fill the tumbler with water, insert his dirty paw, give the tumbler a few twists, and pull out a perfectly clean paw. Repeat three more times, dab them dry and you're good to go! Both the tumbler and bristles are top-rack dishwasher safe for easy cleaning and sanitizing.
Key Benefits
Now you can let your best friend have all the muddy, sandy fun he wants without tracking it into your home or vehicle.
Features soft, thick silicone bristles inside an easy-to-grip BPA-free tumbler that works like a miniature agitation washer for your dog's paws.
Just fill the tumbler with water, insert his dirty paw, give the tumbler a few twists, and pull out a perfectly clean paw.
Both the tumbler and bristles are top-rack dishwasher safe for easy cleaning and sanitizing.
Comes in three colors; petite fits paws up to 2 inches, medium fits paws up to 2.5 inches, and large fits paws up to 3.5 inches.