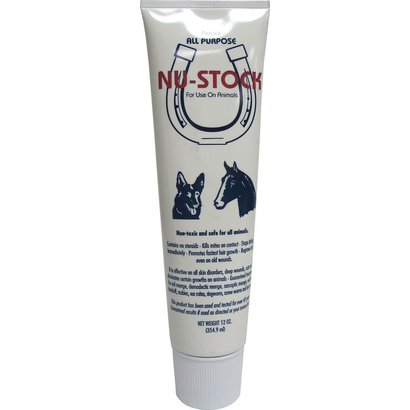 Nu Stock All Purpose Salve
17660
Availability:

In stock (4)
Product description
EAN:

856162000019

Article number:

17660

Availability:

In stock (4)
What is Nu-Stock Ointment?
For the treatment of all kinds of skin disorders in horses, dogs and cats.
Who is Nu-Stock Ointment for?
Dogs, Cats, and Horses
How is Nu-Stock Ointment used?
Can be used for cuts, bruises, burns, swelling, soreness, loss of hair and tender hooves on horses. Non-Toxic and safe for all animals, even cats.
Contains no steroids. Stops itching immediately and promotes faster hair growth even on old wounds.
Ingredients: Sulfur 73%, Pine oil 2%, Mineral Oil 25%.
PLEASE READ AND FOLLOW DIRECTIONS ON PACKAGE.
How much Nu-Stock Ointment do I get?
12oz tube