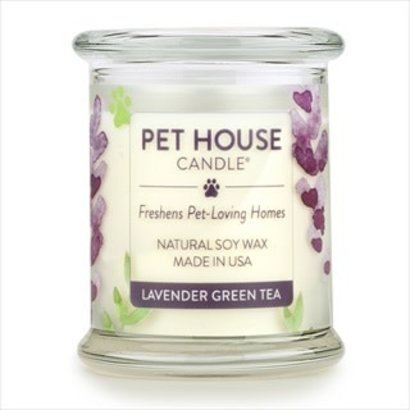 Pet House Odor Eliminating Candle 8.5 oz.
Availability:

In stock (8)
Product description
Brand:

Pet House

EAN:

881314673131

Availability:

In stock (8)
Specially formulated to freshen pet-loving homes

Tested and proven to eliminate 99% of pet odors

Contains no paraffin/petroleum by-products

Premium, non-toxic fragrances

Reusable jar

Up to 60 hours of burn time

100% natural soy wax

100% cotton wick

Cruelty-free

Paraben, phthalate and dye-free

Hand-poured in the USA

Satisfaction guaranteed
Fragrances
Apple Cider: a refreshing and delicious blend of fresh apple juice mixed with just the right amount of cinnamon and clove.
Bamboo Watermint: a fresh and modern fragrance intertwining bamboo with a combination of water flowers, lemon, lime and peppermint.
Evergreen Forest: a walk in the woods among coniferous pines, crushed leaves, redwoods and sweet balsam.
Falling Leaves: captures an autumn scene with the crisp blue sky, the autumn leaves in the forest and the spices of the season. This fragrance blends the scent of nutmeg, cinnamon, clove intermingled with drying fallen leaves in the woods.
Fresh Citrus: a sparkling blend of fresh orange, lemon peel and sweet vanilla sugar.
Furever Loved Memorial Candle: a light and comforting fragrance that combines an array of floral and citrus scents balanced with a hint of citrus honey and golden vanilla.
Lavender Green Tea:  a soothing and calming aroma of French lavender, green tea and white lily livened with crisp citrus, melon and warming sage.
Lilac Garden: brings the fragrance of a blooming floral garden into your home by combining purple lilac with iris bloom, climbing wisteria, violet wood flower, sage flower and lavender.
Mediterranean Sea: transports you to a turquoise ocean under blue skies and sunshine. This tranquil marine scent is blended with floral accents, lemon and lime, and a hint of sweet amber musk to create a clean refreshing fragrance.
Pecan Pie: a delicious blend of nutty pecans, sweet maple, toasted coconut with a subtle hint of vanilla and a buttery pie crust.  Pecan Pie is the perfect fragrance for fall and the holiday season!
Pumpkin Spice: a warm and spicy holiday favorite with a blend of pumpkin, cinnamon sugar, maple butter and vanilla bean.
Sunwashed Cotton: combines classic, crisp, clean laundry fragrance with modern fruity scents. Enjoy smells of freshly laundered linens hung to air dry on a clear, sunny day.
Vanilla Sandalwood: combines earthy scents of sandalwood, cedarwood, amber and musk with a touch of the sweet smell of vanilla and tonka beans.