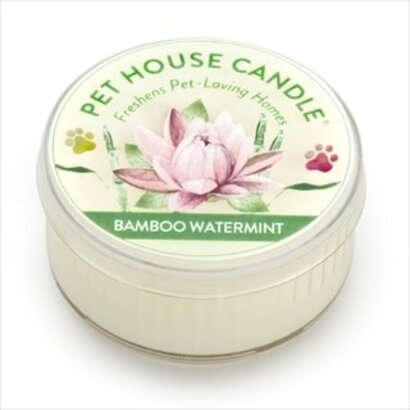 Pet House Odor Eliminating Mini Candle 1.5 oz.
Availability:

In stock (5)
Product description
Brand:

Pet House

EAN:

736902408896

Availability:

In stock (5)
Specially formulated to freshen pet-loving homes

Tested and proven to eliminate 99% of pet odors

Contains no paraffin/petroleum by-products

Premium, non-toxic fragrances

Up to 12 hours of burn time

100% natural soy wax

100% cotton wick

Cruelty-free

Paraben, phthalate and dye-free

Hand-poured in the USA

Satisfaction guaranteed
Fragrances
Bamboo Watermint: a fresh and modern fragrance intertwining bamboo with a combination of water flowers, lemon, lime and peppermint.
Fresh Citrus: a sparkling blend of fresh orange, lemon peel and sweet vanilla sugar.
Lavender Green Tea: a soothing and calming aroma of French lavender, green tea and white lily livened with crisp citrus, melon and warming sage.
Lilac Garden: brings the fragrance of a blooming floral garden into your home by combining purple lilac with iris bloom, climbing wisteria, violet wood flower, sage flower and lavender.
Sunwashed Cotton: combines classic, crisp, clean laundry fragrance with modern fruity scents. Enjoy smells of freshly laundered linens hung to air dry on a clear, sunny day.
Vanilla Sandalwood:
combines earthy scents of sandalwood, cedarwood, amber and musk with a touch of the sweet smell of vanilla and tonka beans.